A

NTI-ILLUMINATI


D

EFENCE

D

EPARTMENT
The Illuminati structure is one of pyramids within bigger pyramids within still bigger pyramids until you reach the one that encompasses all the others. It is like Russian dolls, one inside the other.

-- David Icke

Who can unlock the mystery wrapped in an enigma that is the Illuminati?

Only our heroic...
A

I

DD

Age

nts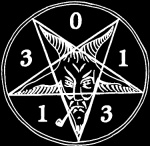 Mankind's last chance!
The victim of a diabolical CIA plot, Agent Spicoli is the leader of this group of misfits. Spicoli's blank stare is the result of an LSD experiment gone awry.
The brains behind the operation, Sloth is actually what a normal human being would look like if unexposed to water fluoridation.
After faking his own death, Bob Ross began growing hemp and watching reruns of his old show. He's been sleeping on the couch since 1998.
"There are no mistakes, just happy 'accidents'"
The Government began experimenting on JJ Evans at a young age by placing him in the "Projects". The CIA then began introducing drugs and HIV into the inner cities during the 1980's. Today over 2 million people in the U.S. are imprisoned largely because of the so-called "War on Drugs".
Very little is known about Agent 23, except that he enjoys the smell of fragrant cheeses.